IBO Player " recommended"
What is IBO Player?
IBO Player is a complete media player for smart tv and Android tablets that lets you open most existing video and sound formats. Playing media files on smart TVs is common. The quality of video they are able to provide for these devices, such as tablets, has greatly improved and has become a popular choice for watching movies and videos, especially when available without a player.
Please note: IBO Player does not provide any lists or channels, so you must provide your list link (m3u link) to watch channels and VOD.
Functions
IBO Player is one of the best streaming media players and provides you with an easy way to watch channels from your IPTV service provider, here is a list of IBO Player's most important features:
VLC-based player for fast streaming media.
Different themes to customize your application.
Easy to access and simple intuitive interface. Support messages and posters in movies and series.
Support language choice in movies and TV series.
Support film and TV subtitle language choice.
Two configuration methods for the m3u link and XStream code are supported.
Support for the possibility of multiple playlists to protect their pin codes.
Compatible devices
Can be installed on all of your devices: for example Smart TV, Android(TV, Box, Fire Stick,…), Or Apple TV. The IBO Player application supports the following devices:
| | | |
| --- | --- | --- |
| Android TV | Fire TV | Firesticks |
| Apple TV | LG Smart TV | Samsung Smart TV |
Price subscription
The IBO player is just a media player. The app is available in the store: a free 7-day trial. At the end of the free trial, you have to pay a one-time fee of €8 per TV/device to activate it.
IBO Player for Android
Since IBO Player has uploaded many TV apps to the Google Play Store. You can search and download directly from the App Store.
How to Download and Install
Open your Android device and head to the internal App Store or Google Play Store to search for IBO Player.
Find the corresponding IBO Player application and click Install.
Once installed, the IBO Player app will appear on your screen.
IBO Player for Firestick
Since IBO Player can't be found on FireTV or Firestick's Amazon App Store, you must side-load the IBO Player app, which means you must use the APK version of the app to complete the IBO Player download. This requires more steps and another application download (Downloader) to install the APK file.
How to Download and Install
First, turn on your Firestick device and click Settings to turn on allowing unknown sources.
Then go to the search bar, search for Downloader, and install the Downloader program.
Once installed, open the Downloader program and enter the APK URL: http://ibodesk.com/y.apk.
Start the download/installation process. Once installed, IBO Player will appear on your device.
IBO Player for IOS
As IBO Player has uploaded many TV apps to the Apple Store. You can search for IBO directly by heading to the Apple Play store on your device. You can download it directly without any tools.
IBO Player for PC
How to install IBO Player on Windows 7/8/10 PCS and laptops. You'll find a detailed step-by-step guide below.
How to Download and Install
If you have not installed the Bluestacks 5 software before, please download it from the following link – Download Bluestacks for PC.
After the installation is successful, open the Bluestacks emulator.
It may take some time to load the Bluestacks application initially. Once opened, you should be able to see the Bluestacks home screen.
The Google Play store is pre-installed in Bluestacks. On the home screen, locate Playstore and double-click the icon to open it.
Now search for the application you want to install on your PC. In our example, search for IBO Player to install on a PC.
After you click the Install button, IBO Player is automatically installed on Bluestacks. You can find the application under the list of installed applications in Bluestacks.
IBO Player for Smart TV (Samsung /LG)
The IBO Player program has uploaded many TV apps to the Samsung TV Store or Lg Content Store. You can go directly to the Samsung or LG Smart TV App Store screen and search for the "IBO Player" app. If the app is not displayed on the home screen, you may need to search for it under "All Apps" or "Updates."
How to activate and set an IPTV subscription on IBO Player?
Once the application is installed, boot there with its mac address and key.
Click on this link to enter the application website: https://iboplayer.com/device/login.
Enter the information displayed on the TV in the required fields (mac and Key) to connect to the application.
Once connected, you have two configuration methods, either with the m3u link (+ Add playlist) or with Xtream detail code (+ add XC playlist).
Here is how to embed your m3u link if you click + Add playlist.
Here's how to use Xtream in detail:
As a final step, it only remains to go back to your TV and restart the app so that it loads and displays the list with the given name on its website.
FAQs about IBO Player
Is the IBO player free?
IBO Player will allow its new subscribers a free seven-day trial. If you like the application, you can visit the website and purchase it. Video support: All video formats are supported.
Does IBO Player include any channels?
Neither the IBO Player APP nor any administrator can help you find a good playlist. In addition, it does not provide playlists of any kind. Not responsible for content uploaded to our APP.
Does the IBO Player APP have an EPG system?
No, the app does not integrate with the EPG system, but if your vendor has an EPG-Ready system, then it will work with the IBO Player's platform.
Information about IPTV Smarters Pro App
IPTV Smarters App is a free solution to enjoy Super IPTV experience. IPTV Smarters has various functions that simplify the handling of the app and improve the IPTV experience. The IPTV Smarters application can be installed on various devices such as Windows, iOS, MAC, Android and SmartTV devices (Samsung & LG). With the IPTV Smarters app, you also have the perfect solution for not missing your favorite shows, sporting events or films while on the go. You can also purchase the "IPTV Smarters Pro" version in the app settings to be able to use additional options.
Features of IPTV Smarters Pro App
– Support for live channels as well as video-on-demand content
– Supports Xtream Codes API
– EPG data is supported
– Changing the buffer size of the video player possible
– Chromecast is supported
– Youth protection PIN possible
– Integrated player
– Auto EPG update
– Support autoplay new episode (VOD)
– External players are supported.
– Recently added video-on-demand content is displayed separately
– Built-in speed test
Prerequisite for setting up the IPTV Smarters Pro app
To set up the IPTV Smarters app, you need access, which you can purchase via our customer portal
Please make sure that you have the latest version of the IPTV Smarters app installed to avoid possible programming errors in the app.
Download IPTV Smarters Pro App




Setting up the IPTV Smarters Pro app
Step 1: Please install the latest version of the IPTV Smarters app on  your device to avoid programming errors.
Step 2: As soon as the IPTV Smarters app has been successfully installed, we ask you to open the app.
Step 3: Please select the option "Add Your Playlist ( via XC API )".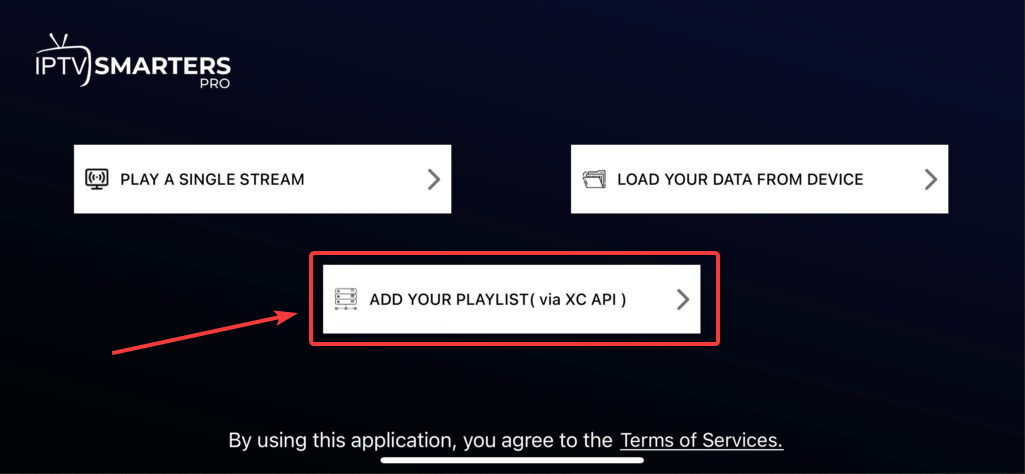 Step 4: You should now receive a message, you only have to accept it. To do this, please go to "Accept".
Step 5: You should now be able to log in. Please enter the data as follows.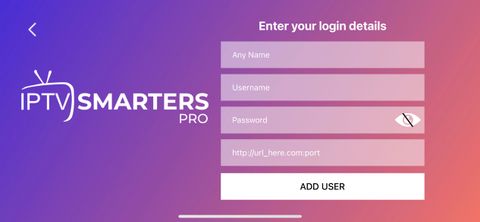 Step 6: You can enter a nickname for your access in the "Any Name" field. We recommend the name of your IPTV provider (GETPRODigital).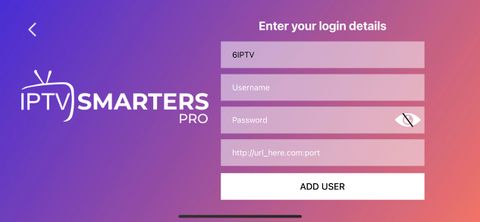 Step 7: Please enter your username, which you can see in your customer account.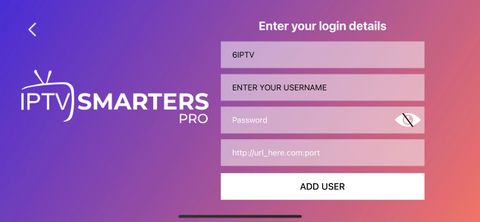 Step 8: Now you have to enter your access password.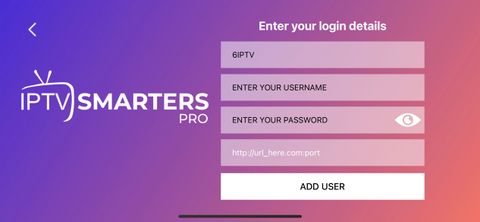 Step 9: Now please enter the host url, this can be obtained from our customer service.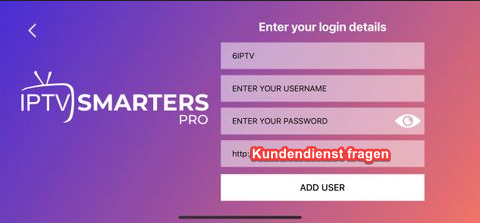 Step 10: Now all you have to do is go to "Add User" to enter access for the IPTV Smarters Pro App.
Step 11: The content may have to be loaded first, which can take a few minutes. After the content has loaded, your device is fully set up with the IPTV Smarters app.
Step 12: You should now have landed in the main menu of the app. Please add the EPG data first by clicking on "Install EPG" walk.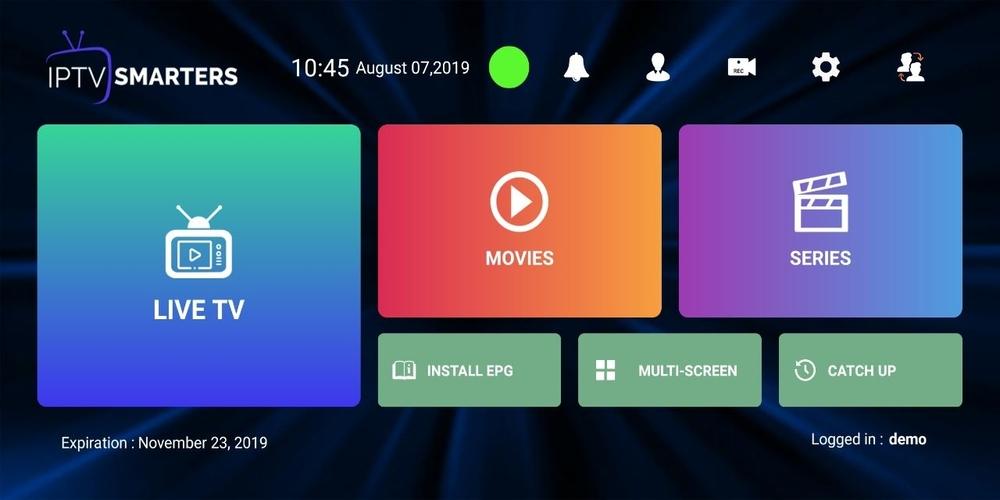 Now your IPTV Smarters Pro app is set up!
Tips & tricks to improve the IPTV experience
Here we explain how you can improve the IPTV experience with the IPTV Smarters Pro App.
You can download an additional player to improve streaming quality. For this you can download the VLC Media Player or the better MX Player. You can also make this change if the IPTV Smarters Pro app is not playing any channels.
To bypass possible filters from your ISP, you